Disclaimer – I have a material and/or financial connection because I received a gift, sample of a product and/or compensation for consideration in preparing to write this content. All opinions stated within are my own.
For anyone caring for an older relative or parent we know that everything can change in an instant. One fall can lead to hospitalization and the very real possibility of losing the ability to live independently. Last year my family dealt with just that issue. My aunt, who lived downstairs from us, must have experienced a fall in the middle of the night. When we finally discovered her the next morning thank goodness she was OK but we learned she had experienced a stroke and slid off her chair. In a mere 24 hours we were thrown into a world of social workers, case managers and rehabilitation. While she recovered mentally, it became obvious that she was too frail to return home. After an extended stay in a rehab facility we needed to move her into a nursing home.
When dealing with a fall, time is critical. The longer it takes to get help, the greater likelihood of a long hospital stay and permanent damage. Unfortunately, my aunt, even at 89 years-old, is extremely proud (and a tad vain?) and despite the many times we tried to get her to wear a medical alert button she refused. I have to admit, I get it. There's nothing pretty about a clunky white piece of plastic on a chain. I've even tried to get my mom (who also lives with us) to wear one because even though she's very healthy she's tiny.
Well, as I always say, the answer always presents itself and mine came in the form of a company called MobileHelp who reached out to me with their new product Trelawear.
It was one of those "why didn't someone think of this before" moments! Instead of some ugly piece of plastic MobileHelp now offers beautiful pieces of jewelry that are actually medical alert systems. Trelawear is blue-tooth enabled and it comes with a mobile device and base station. If you're away from home you simply need to carry the small mobile device with you.
The new Trelawear "smart" jewelry pendant comes with all of the safety features of a traditional personal emergency response system paired to a cellular base station. This high-end pendant comes in a silver or gold finish – providing customers with the freedom to remain safe and stylish – at home and on the go.
If there is a medical emergency the person simply needs to hit the button on the back of the pendant and an emergency responder will contact them to determine the issue and summon help. The person's exact location will be identified through GPS tracking so even if they can't give their location they can get help. Even better, because the technology can identify "normal" motion, if the person falls it can be detected and emergency responders will immediately be contact even if they don't press the button. If they are unable to speak help will be summoned immediately.
This past week I had the opportunity to do a series of television segments with the CEO of MobileHelp Rob Flippo talking about Trelawear. You can check out one of the segments here to learn more: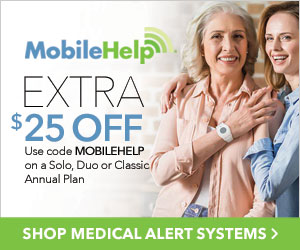 https://alison-jacobson.com/wp-content/uploads/2019/06/TrelaWear_homepage_300x.png
301
300
Alison Jacobson
https://alison-jacobson.com/wp-content/uploads/2021/09/alison-jacobson-logos_FINAL_2021.png
Alison Jacobson
2019-06-18 09:01:14
2020-07-22 16:56:14
MobileHelp's Trelawear makes senior safety fashionable